Organisational Structure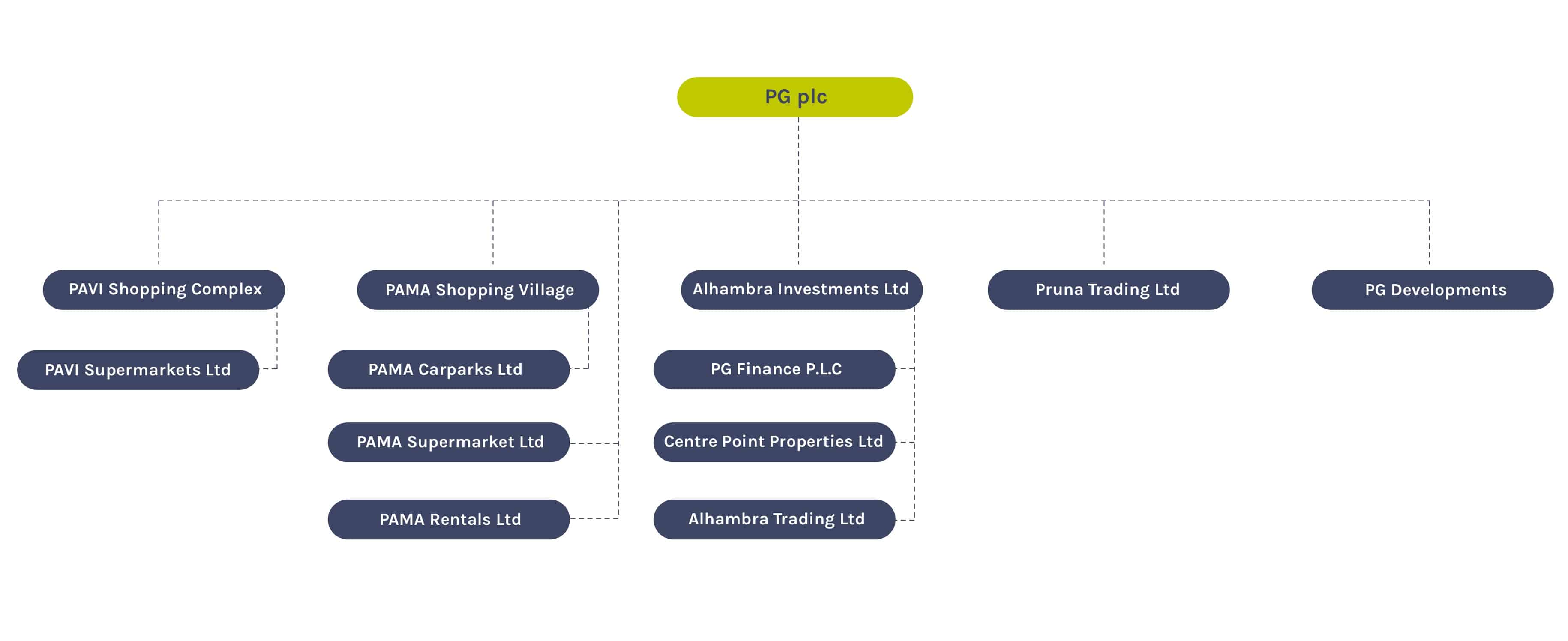 Corporate Governance
PG p.l.c. was incorporated on 25 November 2016 and acquired control of the subsidiaries and associates that constitute the group's business on 10 March 2017. The company's equity was admitted to the Official List of the Malta Stock Exchange on 4 May 2017, after the company's financial year end.
The company is accordingly not required to submit a report on its corporate governance pursuant to Listing Rules 5.94 and 5.97 issued by the Listing Authority of the Malta Financial Services Authority and given the brevity of its operation as a statutory entity such a report covering the year ended 30 April 2017 would not be a meaningful one.
The board of directors has nevertheless ensured, in the course of preparing for the listing of the company's equity, that the company adopts corporate governance procedures that are appropriate to the business, safeguard its continuity and comply with the Code of Principles of Good Corporate Governance (the Code) contained in Appendix 5.1 to Chapter 5 of the Listing Rules. Rather than constituting a report made in terms of Listing Rule 5.94 and relating to the financial year ended 30 April 2017, this statement reports on the measures adopted by PG p.l.c. to ensure compliance with the Code moving ahead. It also reports on the remuneration payable to directors and senior management, in lieu of a separate report thereon.
Financial Statements
The financial statements of the Group and the Company may be downloaded below and are also available upon request in hard-copy printed form. The Directors are responsible for the maintenance and integrity of the financial statements on this website. The Company's website is available in other jurisdictions, wherein the rules and regulations governing the preparation and dissemination of financial statements may differ from Maltese requirements and practice.
Investor Helpline
| | |
| --- | --- |
| Tel: | +356 2349 6506 |
| E-Mail: | investorrelations@pggroup.com.mt |
| | | | | | | | | |
| --- | --- | --- | --- | --- | --- | --- | --- | --- |
| Person Discharging Managerial Responsibility | Date | Instrument Type | Nature of Transaction | Place of Transaction | Currency | Price | Volume | Other Information |
| | | | | | | | | |