Organisational Structure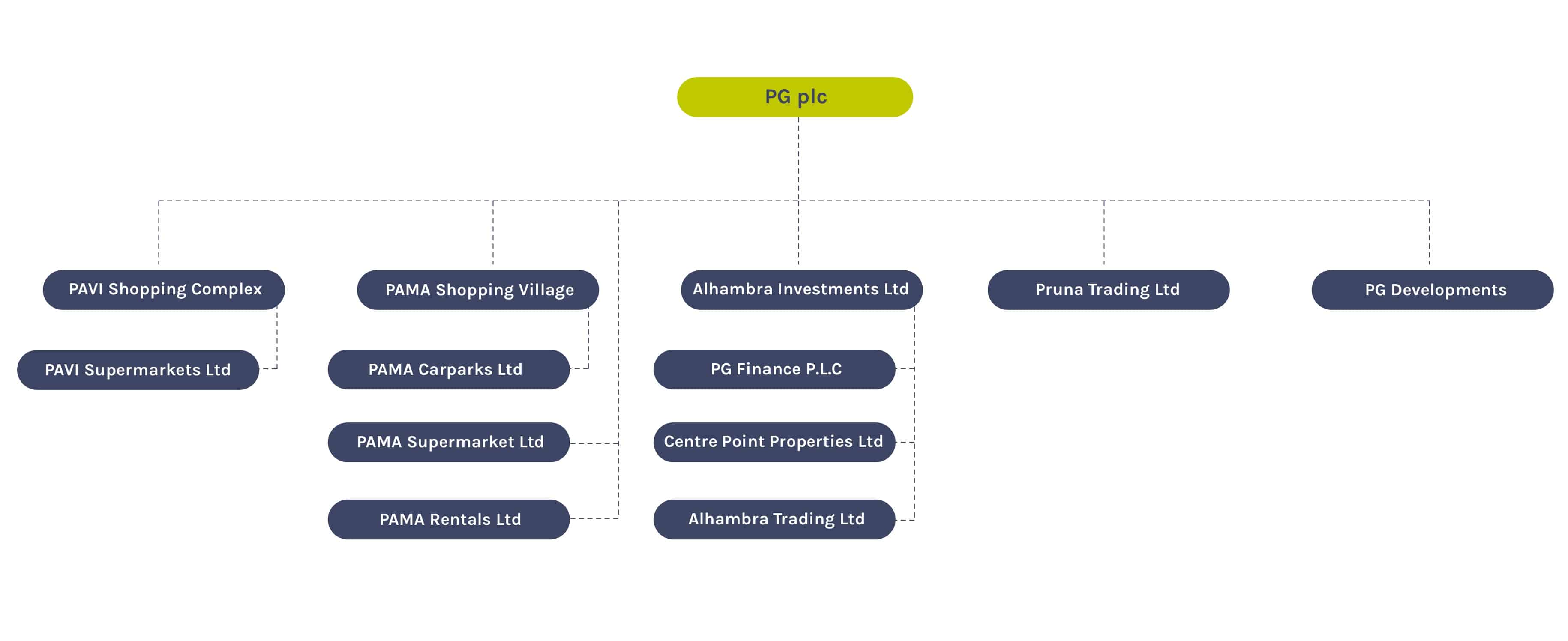 Corporate Governance
PG p.l.c. was incorporated on 25 November 2016 and acquired control of the subsidiaries and associates that constitute the group's business on 10 March 2017. The company's equity was admitted to the Official List of the Malta Stock Exchange on 4 May 2017.
The company is accordingly required to submit a report on its corporate governance pursuant to Listing Rules 5.94 and 5.97 issued by the Listing Authority of the Malta Financial Services Authority, covering the financial year ended 30 April 2018.
Good corporate governance is the responsibility of the Board of Directors, and, in this respect, the board has carried out a review of the company's compliance with the Code of Principles of Good Corporate Governance (the Code) contained in Appendix 5.1 to Chapter 5 of the Listing Rules. It has taken measures for the company to comply with the requirements of the Code to the extent that this is considered appropriate and complementary to the size, nature and operations of PG p.l.c. Notwithstanding the fact that the adoption of the Code is not mandatory, the board has endorsed its principles and ensured their adoption, save as indicated hereunder in section C, entitled, 'Non-Compliance with the Code', where the Board discloses the instances where it has departed from the Code's recommendations.
Financial Statements
The financial statements of the Group and the Company may be downloaded below and are also available upon request in hard-copy printed form. The Directors are responsible for the maintenance and integrity of the financial statements on this website. The Company's website is available in other jurisdictions, wherein the rules and regulations governing the preparation and dissemination of financial statements may differ from Maltese requirements and practice.
Investor Helpline
| | |
| --- | --- |
| Tel: | +356 2349 6506 |
| E-Mail: | investorrelations@pggroup.com.mt |
| | | | | | | | | |
| --- | --- | --- | --- | --- | --- | --- | --- | --- |
| Person Discharging Managerial Responsibility | Date | Instrument Type | Nature of Transaction | Place of Transaction | Currency | Price | Volume | Other Information |
| | | | | | | | | |
Annual General Meeting